Researcher Discusses HEE Findings Regarding Forest Management and the Cerulean Wabler
Dr. Kamal Islam from Ball State University contributed an article to the Indiana Woodland Steward regarding his work studying the Cerulean Warbler. The article discusses his 11-year study of Cerulean Warblers on the HEE and some of the findings thus far. You can read the story by visiting the "Articles" page of our website.
2018 Field Season off to a Busy Start!
The 2018 field season is off and running! This year, we have a number of studies taking place across the Hardwood Ecosystem Experiment research sites including breeding bird surveys, bat acoustic monitoring and mistnetting, Cerulean Warbler surveys, beetle surveys, moth surveys, and two new studies! The two new studies to join our list of projects this year include a fungi and an earthworm study!
HEE Graduate Student and Researcher Featured in ISU Magazine Article
Graduate student Tim Divoll and his doctoral advisor Dr. Joy O'Keefe from Indiana State University have been featured in a new piece in the Indiana State University Magazine. The piece describes the research that Tim Divoll has been doing on endangered bats as part of the Hardwood Ecosystem Experiment. You can read the story by visiting the "Articles" page of our website.
HEE Researchers Featured on Program Rare INdiana
HEE Researchers Dr. Kamal Islam and Dr. Tim Carter from Ball State University were recently featured on the WIPB Indiana Public Broadcasting program "Rare INdiana". On the program they discussed their work with bats and Cerulean Wablers. You can find out more by clicking here!
Middle School Lesson Plan Utilizing HEE Data Now Available!
Skye Greenler, a graduate student at Purdue University, created a lesson plan for middle school students. The lesson, The Great Clearcut Controversy, has students investigate the effects of clearcut harvests on a number of different species and later discuss how they would choose to manage the forests. The lesson plan meets a number of Indiana Science Standards and utilizes real data from the Hardwood Ecosystem Experiment. It is available for download for free through Purdue University Extension.
You can download the lesson plan by visiting https://www.extension.purdue.edu/extmedia/FNR/FNR-549-w.pdf
New HEE Infographic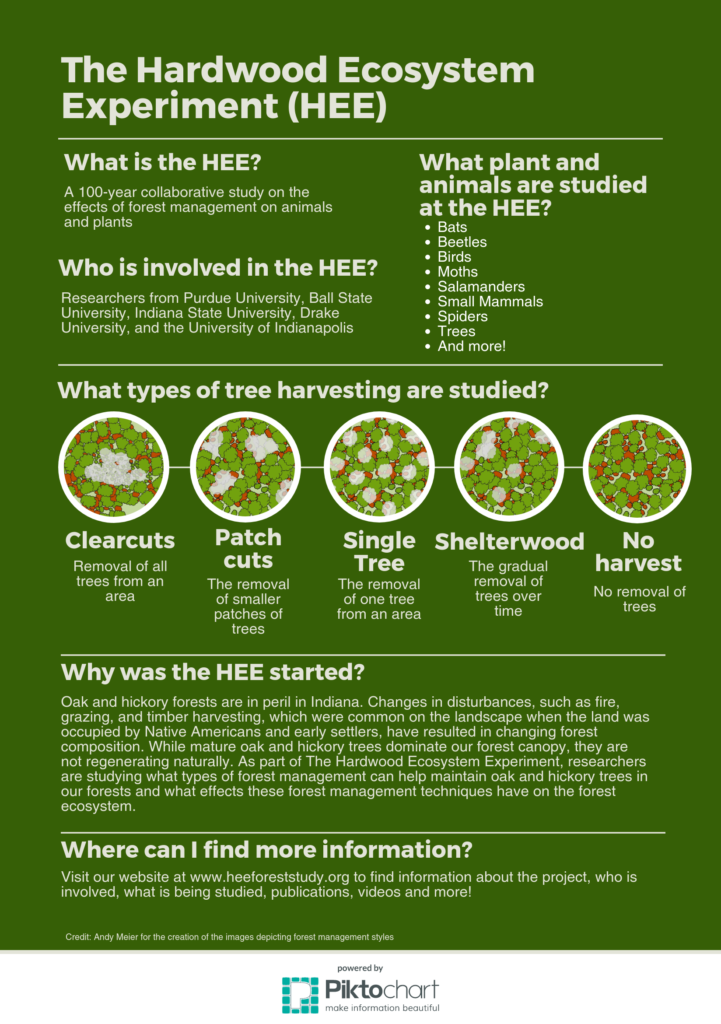 Two New Children's Books Feature HEE Researchers
Dr. Tom McConnell at Ball State University has written two new children's books that feature HEE Researchers and graduate students: one about the Cerulean Warbler and one about bats. Two Ball State graduate students (Clayton Delancey and Garrett MacDonald) working with Dr. Kamal Islam to study Cerulean Warblers at the HEE are included as characters in the book Conservation Tales: The Cerulean Warbler. Conservation Tales: Bats is the second book in the series and is based on research by HEE Researcher Dr. Tim Carter and his graduate students Keifer Titus and Kristi Confortin with support from the Organization for Bat Conservation.
You can find out more about the books by visiting http://www.conservationtales.com/ .
New HEE Videos
Two new Purdue University Extension videos about the Hardwood Ecosystem Experiment are now available. The first video, "Sustaining Our Oak-Hickory Forests", provides an overview of the Hardwood Ecosystem Experiment and some of the factors that have led to the development of the HEE. The second video, "Wildlife Responses to Timber Harvesting", features some of the HEE Researchers and Graduate Students discussing their findings on how different forest management practices affect breeding birds, bats, Cerulean Warblers, and salamanders. You can view the videos by visiting the "Videos" page of this website.